BACK IN OCTOBER I WAS INTRODUCED TO THE GUYS AT LOCAL THREE KITCHEN AND BAR. A VERY NICE LADY WORKING WITH LOCAL THREE THOUGHT MY PAINTINGS WOULD BE A GOOD FIT FOR THE IDEA BEHIND THE REHABBED DINNING ROOM. WELL ONE THING LED TO ANOTHER AND I ENDED UP BUILDING TONS OF STUFF FOR THEM.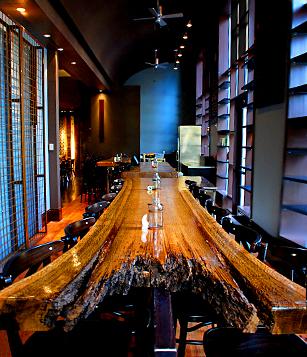 THIS HERE BAR WAS AN OAK TREE THAT FELL IN THE ATLANTA AREA. WE HAD A GUY SLICE US TWO PIECES THAT WERE EACH 4" THICK, 12' LONG AND ABOUT 40" WIDE. WE CUT OFF A PIECE ABOUT 14" WIDE FROM EACH AND I JOINED THEM TO MAKE A THIRD PIECE. I FINISHED THEM AND NOW THEY ARE THE BAR AT L3.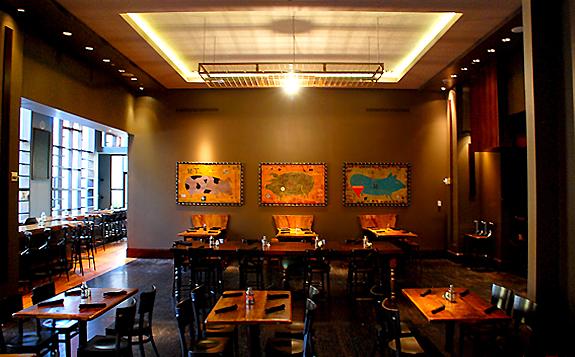 THE THREE PIG PAINTINGS ARE MY WORK AS WELL AS ALL THE TABLE TOPS YOU CAN SEE. THERE ARE MORE YOU DON'T SEE. I DID ABOUT 30 TOPS FROM ANTIQUE PINE FOR L3.
LOCAL THREE WAS RESTAURANT JOEL IN SEPTEMBER 2010. NEXT THING YA KNOW IT IS L3 AND THE ORANGE GLASS TILE WALL JOEL HAD INSTALLED HAD TO GO. THE ORANGE TILE WAS BEAUTIFUL, BUT IT WAS THE SIGNATURE PIECE OF THE JOEL DINNING ROOM. SO I COVERED IT WITH SALVAGED MATERIALS. SHUTTERS, ROOFING TIN, OLD LUMBER ECT. AND MADE IT THE SIGNATURE PIECE OF THE LOCAL THREE DINNING ROOM.